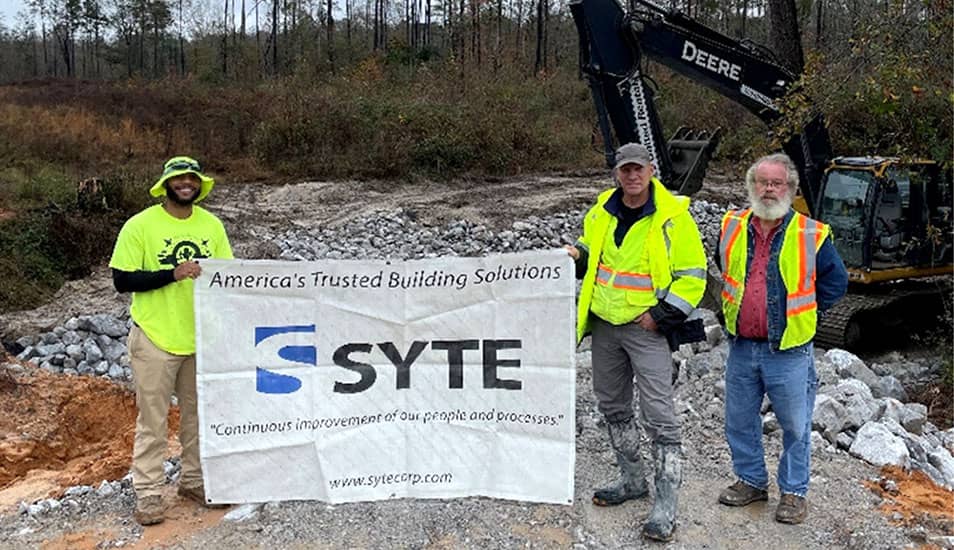 From conception to completion, each construction project is led by a competent, seasoned project manager who possesses an unwavering commitment to delivering value, expertise and the skill-sets required to bring a construction project to fruition.
From initial project estimates to the last item on a punch list, SYTE is committed to working collaboratively with our clients to deliver construction projects on time and under budget. Our clients can be assured they will work closely with a team of skilled and experienced professionals at the project management, project engineer, and general superintendent levels.
President and Chief Executive Officer
Mr. Mario L. Short is an honorably discharged veteran of the U.S. Marine Corps and construction industry professional, with more than twenty (20) years of experience. He serves as the President and Chief Executive Officer of SYTE Corporation with responsibilities for overall management and operations.
His input and contributions can be traced across all aspects of the company, including Project Management, Business Development, Human Resources, and Corporate Finance. In his role as CEO, he ensures SYTE's adherence to all industry safety, environmental, and regulatory compliance requirements.
Under Mr. Short's leadership, SYTE Corporation has averaged double digit growth in revenue and net income year over year; has earned local, regional, and national recognition, and has established itself as a preferred partner to many government agencies and private sector entities. Moreover, Mr. Short has developed an organizational culture steeped in collaboration, transparency, and performance excellence.
Mr. Short studied electrical engineering at Southern Illinois University in Carbondale, IL, and received his executive education at the Tuck School of Business at Dartmouth in Hanover, NH. His public service contributions include serving and supporting veteran-based organizations such as the Dive Heart Military Wounded Program and Leave No Veterans Behind. Mr. Short is married and the father of four. In his spare time, he enjoys skiing, golf, and reading autobiographies.
Meet our incredible management team
Kahmal Patterson is a Controller with 10 years' experience managing the finances/project accounting for both residential and commercial construction projects. His project accounting experience includes detailed budgeting, job costing, managing subcontractor compliance (certified payroll reporting & SF1413), monitoring cost to complete reports, processing and submitting monthly AIA documents or required documents for progress billing, entering subcontract agreements into SAGE100 software, process invoices, change orders, purchase orders, lien waivers, and vendor certificate of insurance efficiently. Additionally, Kahmal assists the project management, business development and marketing teams.
Mr. Heinemann is a tried and tested construction manager who has successfully executed large construction and environmental remediation projects for over 20 years. Primarily, his project assignments (both in the U.S. and overseas) have been for the U.S. Government and commercial clients. His management and team leadership have been recognized through numerous commendations and awards. In 2017, his Bois Brule project received the Superior Safety Performance Award from Associated General Contractors and the United States Army Corps of Engineers (USACE) St. Louis District. While his Strategic Aircraft Ramp project in Afghanistan received the 2010 Project of the Year Award.
His breadth of experience includes project and program management, soil, and groundwater remediation, along with several multidisciplinary design projects. Tait has advanced knowledge of construction, demolition, health and safety, quality control, scheduling, and cost estimating/control. He has also trained project teams and corporate personnel in safety, quality control, scheduling, budgeting, and a variety of engineering and construction topics.
Mr. Miears has 26 years of commercial construction experience and has successfully worked as a construction manager on numerous federal government projects, including JOC, SABER, and IDIQ programs. His roles have spanned quality control and safety management, oversite of the design teams and project management. Through his extensive facility renovation experience, he has honed his management skills in demolition, concrete, general carpentry, architectural hardware, hollow metal, access controls, as well as mechanical and electrical work. Under his supervision, multi-story dormitories were demolished to the structural frame and then completely renovated into office space with a higher efficiency, better quality, and at less cost to the client.
Ms. Zhang is a dedicated project management professional who has successfully delivered projects for government and commercial sectors. She is skilled in project controlling, risk management, contract compliance, and time management. She builds trusted client relationships with professionalism, strong work ethic, and diligence, while implementing process improvement plans across the team resulting in effective team collaboration and knowledge transfer.
Mr. Cox, a US Army veteran, is a lead estimator at SYTE with more than 15 years of experience. Chris has expertise in heavy civil, mechanical, low level structural, vertical, conceptual and EPC estimating. Throughout his career, he has managed a team of estimators and trained new and junior estimators. Chris is also skilled in scope validation, contract negotiation, and subcontractors/vendors management. He led the team bidding process and assisted in long term corporate level planning and estimating strategy in corporation with project control personnel. With his comprehensive background, he provides excellent project solutions that meet clients' requirements, on time and within budget.
Mr. Durbin is a U.S. veteran with over 36 years of construction experience. Throughout his career, he has ensured rigorous quality control and safety standards on many large projects comprising subcontractors from numerous trades. Chris effectively oversees the day-to-day operations of his projects and has consistently achieved high production levels in the field. He is skilled at organizing job sites, executing concurrent task orders, and delivering work with zero deficiencies. In addition, he is highly regarded for his proactive approach to quality control management
Ms. Adams has over 12 years of construction experience as a site safety and health officer (SSHO) and 10 years of experience as a quality control manager. In addition, she has over 3 years of experience in construction job order contracting (JOC). Pam participates fully in the project life cycle, from inception to project closeout. Along with her duties as SSHO, she assists in construction estimates and contract administration. Pam has been recognized for maintaining high quality standards, and for effectively implementing safety policies and procedures for clients such as United States Army Corps Engineers